More Hibiscus have bloomed!
Poor plants have been eaten by the bugs so badly this summer, but I finally found the right spray to make them stay away. Both the bushes look so painfully awful, but I love hibiscus flowers and had to photograph the plants despite their awful leaves.
Thankfully these plants are in the backyard. The hibiscus (still not bloomed) in the front only just started to be attacked and I sprayed before they got too bad.
This is the same DINNER PLATE hibiscus I took a pic of the other day. The flower averages around 10" wide and I have a bunch more on the bush.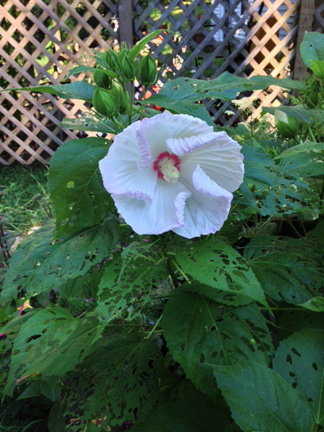 This is a medium sized hibiscus flower. These are around 4" or 5" across. Other hibiscus flowers (the white with the touches of red, the maroon, and the blue kind) are smaller and grow on larger trees.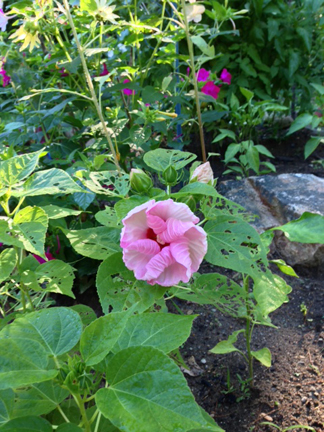 Here are more Morning Glory! The plant is really covering the lattice work; an ugly part of underneath the porch where a lot of the gardening tools are kept. (Figures when I grow climbing plants to cover the lattice, under the porch it was cleaned up of tools I never use and things look better under there). Underneath looks so magical, with the vines and flowers... great place to escape the sun and heat.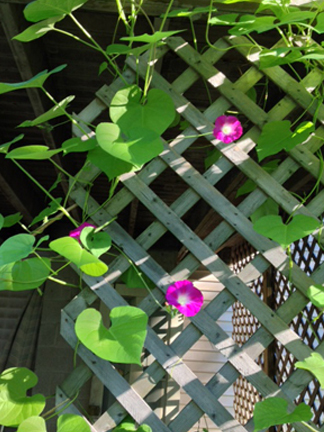 Hoping I can do a little painting today. Also trying to crank out a sweater for my cousin's daughter's birthday. Great fall colors and perfect to wear when she goes off to Europe for a semester of study!