For My Uncle and Father-In-Law
Both my dear Uncle and my father-in-law are in very bad health. My fear is neither will make it for Christmas. So, to make these days as cozy as I could, I made these for them. I sent these slippers out immediately, fearing waiting until Christmas will be too late.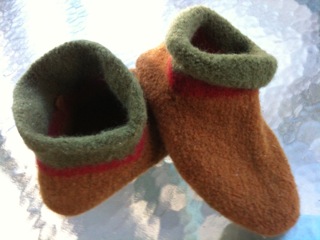 This slipper was the 4th attempt at a slipper pattern and is the 1st to have made it all the way to the felting stage. (I tossed the ones prior to these...)
Unfortunately, during the felting it shrunk too much to send to my uncle or my father-in-law, so it headed to CT with my daughter to her Nature's Classroom camping trip (for the week).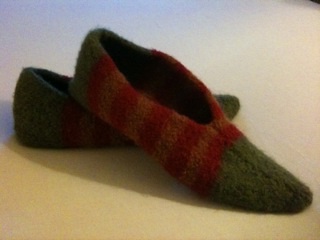 Have seen others made like mine (pointy and all) from the same book (Knit One Felt Two), and theirs are very similar. I understand the pattern and see where it goes a bit funky, so I think I can make the next pair a bit more normal looking.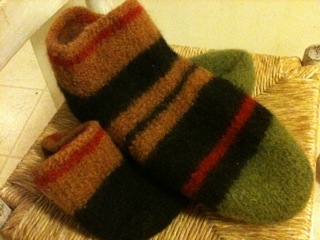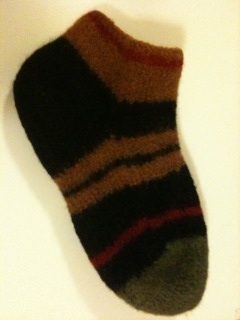 This pair is like the first pair but I really watched the shrinking and stopped felting the slippers in time and they are still large enough to fit my father-in-law.
I designed this pair and the first pair posted by using intuition and seem a little more normal looking and fitting.
The wool yarn is a very bulky yarn and size 10 needles and knit the items super huge before felting. Needles were straight and circular needles (depending on which slipper....)

Thank you for looking.